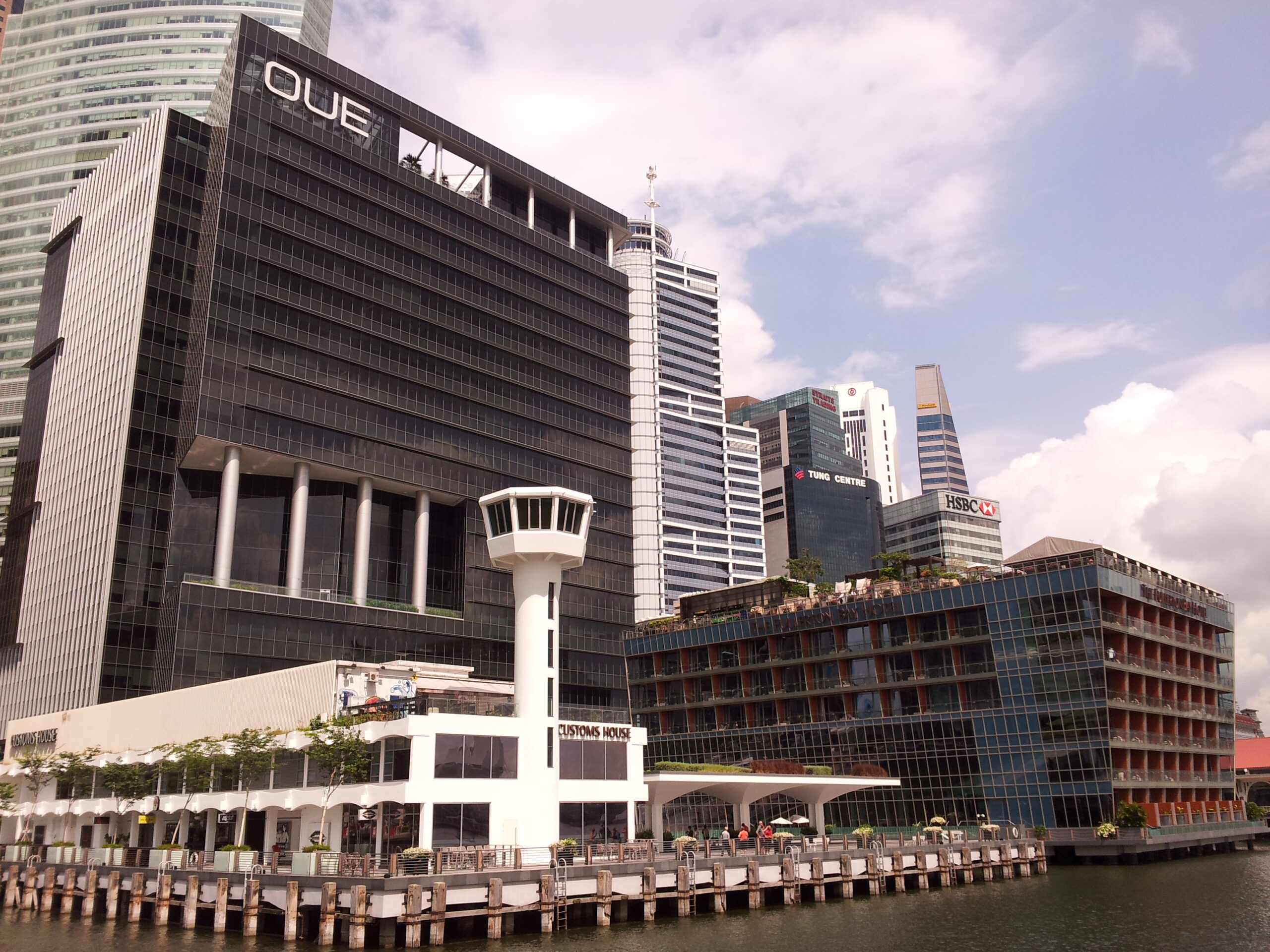 OUE Bayfront
Singapore Office Rental
50 COLLYER QUAY, SINGAPORE 049321
Address: 50 Collyer Quay, Singapore 049321
Developer: Overseas Union Enterprise Limited (OUE)
Building Height:  18 storeys
Nearest MRT Station: raffles place mrt station
Nearest Bus Stop & Bus Service No:  Bus Stop Opp Gb Bldg – 03151, Bus Stop Opp Sia Bldg – 03111 and Bus Stop Opp The Ogilvy Centre – 03071 Bus Stop The Sail – 03381, Bus Stop Clifford Pier – 03019 and Bus Stop One Raffles Quay – 03059
Description of OUE Bayfront Building
OUE Bayfront is a majestic 18-storeys Grade A office building that sits atop Marina Bay Financial Centre. The building was completed in 2011 and was developed by renowned property developer, Overseas Union Enterprise Limited (OUE). Its striking façade features curved glass windows that are designed to reflect sunlight during different times of the day. Inside the lobby, you will find a contemporary seating area where you can relax after a long day at work or take meetings with clients. Other features include ample car parking space and 24-hour security services for added peace of mind. 
Amenities Around OUE Bayfront
OUE Bayfont enjoys proximity to many local amenities such as restaurants, cafes, shopping malls, and convenience stores located just minutes away from the premises. For those who wish to enjoy some fresh air during their lunch break or after work hours, there are several parks nearby such as Gardens By The Bay East & West and Esplanade Park which boast stunning views over Marina bay. There are also plenty of leisure activities available such as cinemas, bowling alleys, and escape rooms situated nearby so there is always something fun waiting around the corner! Additionally, it has various F&B outlets located onsite too so you won't have to travel far if you're looking for some delicious food options while working late into the night.
OUE Bayfront Building Amenities
OUE Bayfront has been beautifully designed with state-of-the-art facilities including high-speed internet connection throughout the building allowing your business to run efficiently without any hiccups along the way! There are also conference rooms available for rent should you need space for larger meetings or events as well as spacious pantries equipped with fridges & microwaves for those long days when you don't want to leave your desk but still need sustenance! Furthermore, all tenants benefit from a 24/7 access control system ensuring maximum security at all times – both inside & outside the premises making it ideal for employees who may need extra flexibility when it comes down to working hours.
Developer Of OUE Bayfront 
OUE Bayfront was developed by Overseas Union Enterprise Limited (OUE). Overseas Union Enterprise Limited (OUE) is a Singapore-based real estate and hospitality company that has been a major player in the industry for over 50 years. The company's roots date back to 1964 when it was founded as a small trading company. Since then, it has expanded its business to include property development, investment, and management, as well as hospitality and healthcare services.
Other Nearby Office Buildings 
If your business requires more than what's available at OUE Bayfront then there are plenty of other Grade A offices neighboring it which offer similar benefits: these include One Raffles Quay, Marina One, Capital Tower, Asia Square Tower 1&2 plus many more. These buildings provide tenants with great connectivity opportunities via MRT lines plus they're conveniently located near major tourist spots like Clarke Quay & Boat Quay making them ideal locations if your team needs inspiration from time.