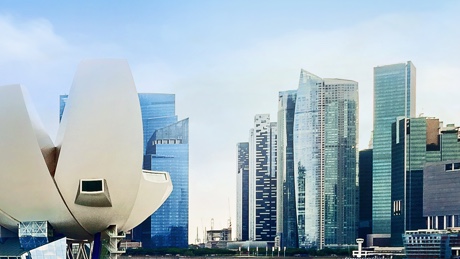 Bank Of Singapore Centre
Singapore Office Rental
63 MARKET STREET, SINGAPORE 048942
Address: 63 MARKET STREET, SINGAPORE 048942
Developer: OCBC PROPERTY SERVICES
Building Height:  22 storeys
Nearest MRT Station: raffles place mrt station
Nearest Bus Stop & Bus Service no: OCBC Ctr BUS STOP (05319), BUS STOP (03021)Prudential Twr, BUS STOP (05009) OPP OCBC Ctr, BUS STOP (03031)

Raffles PL STN 
Description of the Bank of Singapore Centre Building 
The iconic 22-storeys Bank Of Singapore Centre is located in 63 Market Street, near Raffles Place MRT station. It features high-quality finishings with an elegant façade designed to meet modern office standards. The building also provides direct access to two basement carparks for tenants' convenience with ample parking spaces allocated for them. On top of this, visitors can enjoy sweeping views across Marina Bay from its roof terrace as well as complimentary Wi-Fi throughout the building's interior and exterior areas. Additionally, there are several dedicated meeting rooms available for lease within the premises as well as a 24/7 security system that ensures safety at all times.
Amenities around the Bank Of Singapore Centre 
The Bank Of Singapore Centre is conveniently surrounded by numerous amenities such as banks, retail outlets, restaurants & eateries, and more – making it an ideal location for businesses looking to establish their offices in Central Business District (CBD).  In particular, nearby Raffles Place MRT Station enables easy access via public transport while nearby bus stops provide another form of alternative transport option – making it incredibly easy for staff working in or visiting this area to travel from one place to another without any hassle.
Bank of Singapore Centre Building Amenities 
The office space within this commercial property comes fully equipped with air conditioning systems installed throughout all levels for tenant comfort; along with lighting systems specially designed to reduce energy consumption costs; CCTV surveillance cameras; fire safety systems; comfortable lounge chairs complete with tables & sofa sets – perfect for rest breaks during long work days; lifts capable up to 30 passengers each; lobby counters complete with receptionists ready to serve guests upon arrival – ensuring everyone feels welcomed whenever they enter this prestigious office space.  
Developer of Bank Of Singapore Centre
It was developed by OCBC Property Services, a subsidiary of the Oversea-Chinese Banking Corporation (OCBC) Group. The company has a strong reputation for delivering high-quality real estate solutions and the Bank of Singapore Centre is one of their notable developments in the region.
Other Nearby Office Buildings 
Several buildings near the Bank of Singapore Centre include, UOB Plaza, Republic Plaza, Chevron House, One Raffles Place, OUE Bayfront, The Treasury and Maybank Tower. These buildings are located in the heart of the central business district of Singapore and offer a range of office and retail options, as well as convenient access to transportation and amenities.