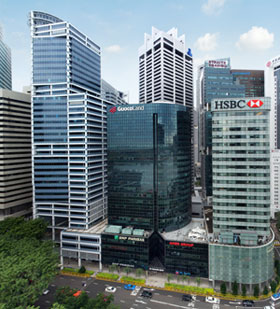 20 Collyer Quay
Singapore Office Rental
20 Collyer Quay, Singapore 049319
Address: 20 Collyer Quay, Singapore 049319
Developer: GuocoLand Property Management Pte Ltd
Building Height: 24 storeys
Nearest MRT Station: Raffles Place MRT Station (EW14/NS26)
Nearest Bus Stop & Bus Service No: 
Bus Stop Clifford Pier – 03019, Bus Stop Fullerton Square – 03011 and Bus Stop Opp Aia Tower – 03031.
Description of 20 Collyer Quay Building 
20 Collyer Quay is a 24-storey office building located in the Central Business District. It was completed in 1984 by developer GuocoLand Property Management Pte Ltd. The building offers over 200 units with a total floor area of approximately 83 thousand square meters. It has an impressive glass façade and contemporary interiors that create an inviting atmosphere for businesses looking to make their mark on the city skyline. The building features two sky gardens which provide stunning views of the cityscape as well as ample outdoor space for tenants to enjoy during their lunch breaks or after-work hours. The building also has multiple elevators and lobbies to ensure efficient movement between floors. Additionally it is equipped with modern amenities such as air-conditioning systems and fire safety measures to ensure maximum comfort and safety for its occupants.
Amenities around 20 Collyer Quay
20 Collyer Quay is conveniently located near a variety of amenities that make life easier for tenants living or working at this iconic office building. For example there are multiple restaurants and cafes nearby where one can grab a quick bite or have lunch meetings with colleagues or clients. In addition there are banks such as DBS Bank and OCBC Bank just across the street from the office tower providing easy access to banking services when needed by tenants or visitors alike. There are also numerous shopping malls located within walking distance from the office tower including Marina Bay Sands Mall which offers retail stores as well as entertainment options like cinemas or theatres making it easy to find something enjoyable after work hours.
20 Collyer Quay Building Amenities
The office tower itself provides several amenities that make it an attractive workplace option for businesses looking to rent space at this iconic location in Singapore's Central Business District. These include 24 hour security services provided by trained personnel who patrol the premises day and night; CCTV surveillance cameras installed throughout common areas; Wi-Fi enabled work spaces; meeting rooms equipped with audio visual equipment; pantry facilities; showers; locker rooms; bike racks; car parking spaces available onsite; plus many more features designed to ensure maximum comfort and convenience for tenants at this prime location in Singapore's CBD area .  
Developer of 20 Collyer Quay
20 Collyer Quay is developed by GuocoLand Property Management Pte Ltd, a subsidiary of GuocoLand Limited, a leading property developer in Singapore and the region.
Other Nearby Office Buildings
Apart from 20 Collyer Quay there are several other nearby office buildings that provide alternative options if you're looking to rent space within walking distance from this iconic landmark. These include Clifford Centre, Prudential Tower, Six Battery Road, OUE Bayfront Tower, Robinson Towers, Hong Leong Building among many others all offering their own unique features & amenities depending on what your business needs may be.