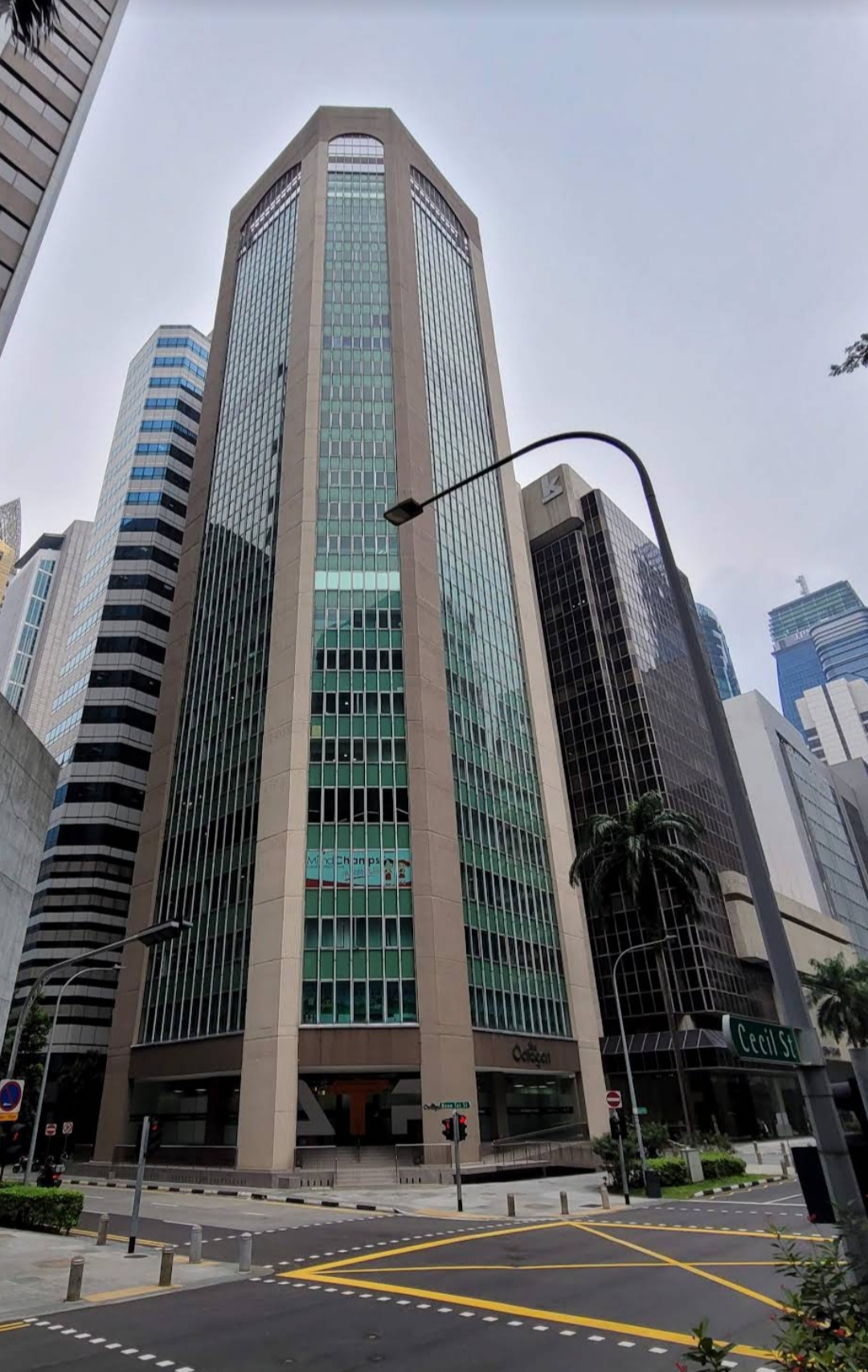 The Octagon Building
Singapore Office Rental
105 CECIL STREET, SINGAPORE 06
Address: 105 CECIL STREET, SINGAPORE 06
DevelopER: OCBC Property Services
Building Height: 25 storeys
Nearest MRT Station: TELOK AYER
Nearest

Bus Stop & Bus Service No: Opp The Ogilvy Centre – 03071, Bus Stop Opp Pwc Bldg – 03041, and Bus Stop Opp Gb Bldg – 03151
Description of The Octagon Building
The Octagon Building, located at 105 Cecil Street in Singapore's central business district, stands as a remarkable architectural gem that commands attention with its unique design and strategic location. Developed by OCBC Property Services, this commercial building has become a notable landmark in the bustling cityscape. With its strategic positioning, The Octagon Building offers its occupants and visitors easy access to a wealth of amenities and resources. The surrounding area boasts a vibrant ecosystem of commercial and retail establishments, ensuring convenience and a multitude of options for dining, shopping, and entertainment.
Amenities Around The Octagon Building 
The area surrounding The Octagon Building has plenty of amenity options ranging from retail shops such as Robinson's Centre & Far East Plaza to classic local eateries like Old Chang Kee & Toast Box. All these amenities are just a few steps away from the building entrance making them easily accessible for both tenants and visitors alike. Those who enjoy outdoor activities or simply need some fresh air after work hours can take a stroll through Chinatown Heritage Centre or visit one of the nearby parks including Telok Ayer Park & Maxwell Road Garden. 
The Octagon Building Amenities
Tenants working at The Octagon Building have access to various facilities offered by the building owner including Wi-Fi services throughout all floors as well as cleaning services every night except Sundays & Public Holidays which allows tenants to keep their offices looking neat at all times. There is also 24-hour CCTV surveillance throughout the entire premises ensuring complete safety for everyone entering or leaving the building anytime day or night. Furthermore, there is also a convenient carpark available accommodating huge numbers of vehicles making it easy to get around town without having to worry about parking fees while visiting clients or attending meetings outside your office space.  
Developer of The Octagon Building
This structure was developed by OCBC Property Services.
Other Nearby Office Buildings
Besides The Octagon Building itself, there are several other notable office buildings situated nearby namely The Quadrant, One George Street, Cecil Court, GB Building, and China Square Central.