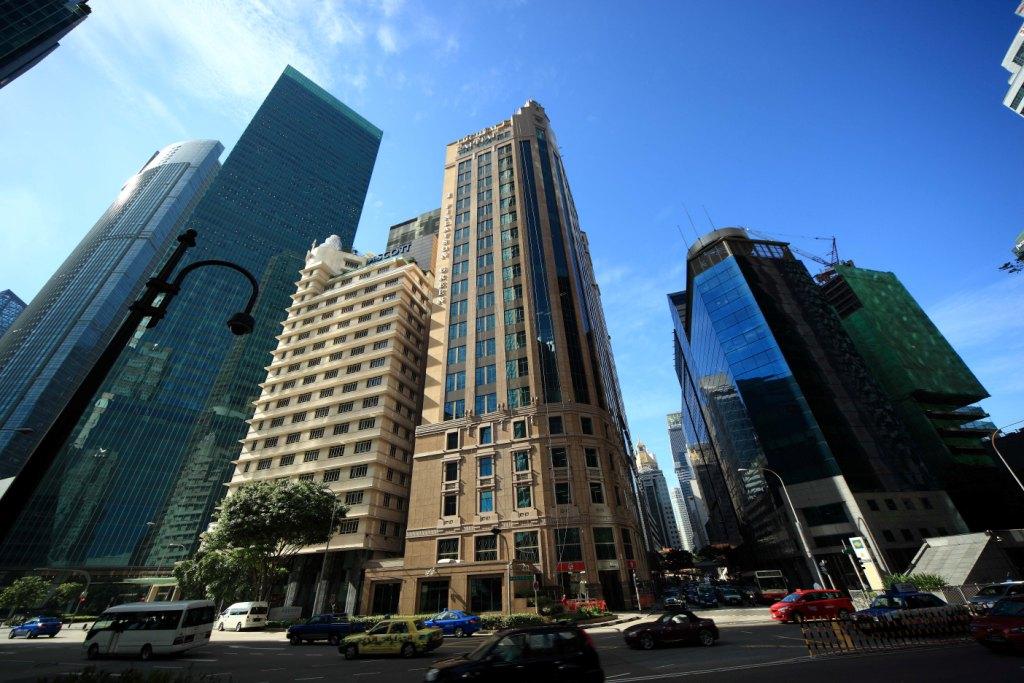 One Finlayson Green
Singapore Office Rental
1 FINLAYSON GREEN, SINGAPORE  049246
Address: 1 finlayson green, singapore 049246
Developer: Kerisvale Pte Ltd
Building Height:  19 storeys
Nearest MRT Station: raffles place mrt station
Nearest Bus Stop & Bus Service No:  Raffles PL Stn Exit F, Bus Stop 03031 – One Raffles Quay, Bus Stop 03059 and Prudential Twr, Bus Stop 0302
Description of One Finlayson Green Building 
As an iconic landmark in Singapore's CBD skyline, One Finlayson Green stands tall at 19 storeys with various modern retail outlets located on its 11th-floor podium level offering convenience to tenants working within the building. Interiors are designed with stylish finishes while being equipped with energy-saving LED lighting systems as well as efficient air conditioning systems that keep offices cool throughout the day. The building is also secured with 24/7 CCTV surveillance ensuring the safety of both tenants and guests entering its premises any time of the day or night. With plenty of eateries scattered around nearby streets such as Amoy Street Food Centre and Maxwell Food Centre as well as multiple banks just a stone's throw away from One Finlayson Green's main entrance makes this property an ideal choice for businesses seeking a prime location within Singapore CBD. 
Amenities around One Finlayson Green 
Being situated at a busy intersection between Telok Ayer Street & Anson Road provides plenty of urban amenities surrounding its vicinity such as shopping centers like China Square Central & Lau Pa Sat Festival market place which includes rows upon rows of street stalls selling local dishes & snacks making it an ideal spot for lunch breaks during work days for tenants working at One FInlayosn green or other nearby offices. Other attractions nearby include popular landmarks such as Masjid Jamae Chulia, Thian Hock Keng temple, Raffles Place Park & Boat Quay which add vibrancy & color to the neighborhood giving business owners more options when entertaining clients outside their offices.  
One Finlayson Building Amenities 
Tenants can look forward to having private meeting rooms with audio-visual equipment available upon request while enjoying free wifi broadband internet connection throughout all levels inside One Finlayson green including common areas like pantries located on each level offering hot drinks, cold beverages & snacks vending machine alongside full-sized fridges storing food items. A mini gym equipped with exercise machines is found at the basement level which allows tenants working late hours or looking for stress relief during break times a chance to stay fit during work days without having to leave their workplace. There is even a spacious outdoor terrace garden situated atop one wing featuring a lush greenery environment perfect for holding events or just relaxing after long hours of work.   
Developer Of One Finlayson Green 
One Finlayson Green was developed/managed by the Kerisvale Pte Ltd
Other Nearby Office Buildings
Aside from One Finlayson Green, there are other notable commercial towers surrounding its vicinity including Robinson Point, Prudential Tower, and UE Square just a few blocks away providing future potential businesses plenty of choices when deciding where best suits their needs whether it be budget-friendly places or extravagant locations closeby.