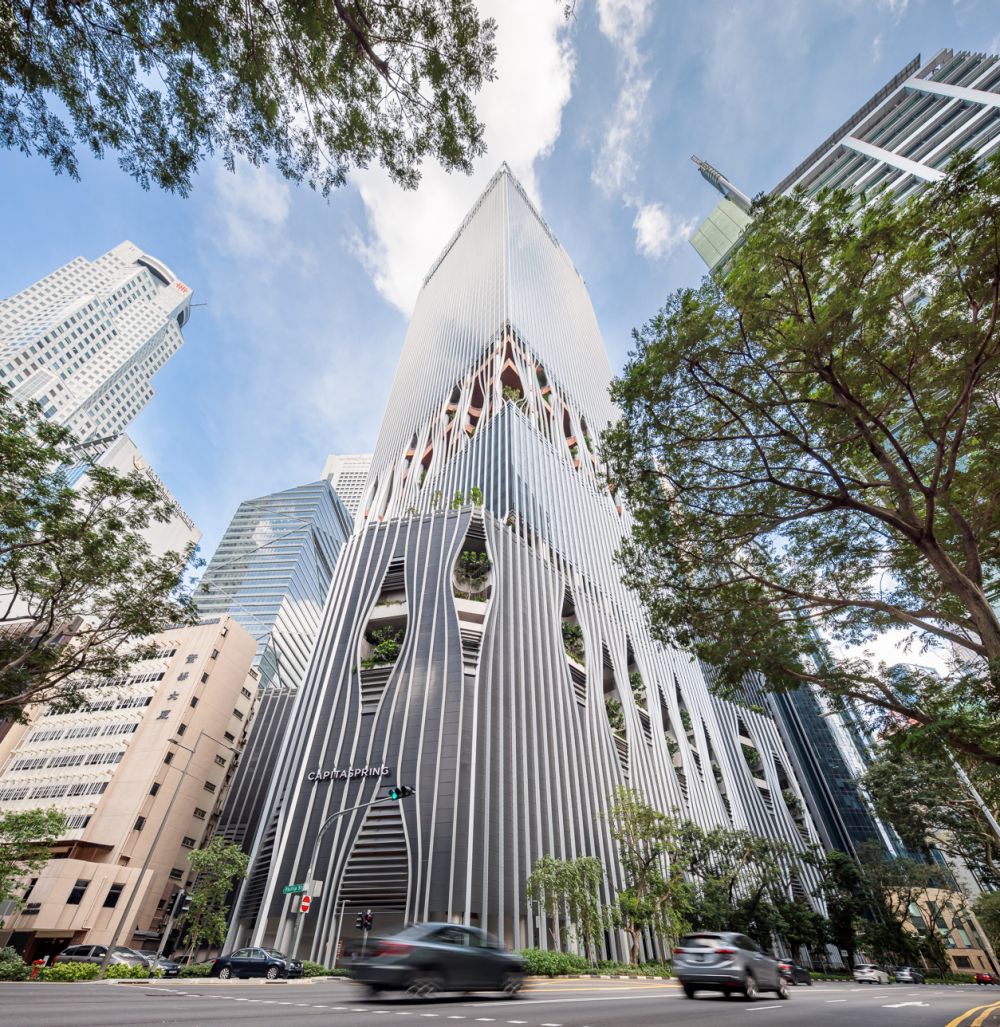 CapitaSpring
Singapore Office Rental
88 MARKET STREET, SINGAPORE 048948
Address: 88 MARKET STREET, SINGAPORE 048948
Developer: CapitaLand Limited
Building Height:  51 storeys
Nearest MRT Station: raffles place AND TELOK AYER mrt stationS
Nearest Bus Stop & Bus Service No:  OCBC Ctr and Prudential Twr
Description of CapitaSpring Building
CapitaSpring is one of the most iconic buildings in Singapore's Central Business District (CBD). With 51 storeys high and occupying over 600 square meters of space, it is truly impressive. The building not only boasts excellent views across the cityscape, but also provides tenants with modern and luxurious spaces within its walls. The lobby area has been designed with great attention to detail with marble flooring throughout along with stylish furniture pieces and a spacious reception area ensuring guests feel welcome upon entering the premises. On each level, 8 elevators are providing quick access throughout the building while state-of-the-art air conditioning systems keep each room comfortable all year round. Furthermore, the corridors have been decked out with warm lighting creating a pleasant atmosphere for workers throughout their day.  
Amenities Around CapitaSpring   
As you would expect from being located in Singapore's CBD there are plenty of amenities around the CapitaSpring office that make it even more desirable as an office location for potential tenants including banks such as DBS Bank and UOB Bank both have branches nearby; multiple restaurants specializing in various cuisines; retail outlets offering clothing items; supermarkets stocking daily groceries; gyms so employees can stay fit while working; spas where they can relax after work hours; cafes serving coffee or snacks during lunch breaks or meetings; convenience stores selling everyday essentials; childcare centers so children can be taken care of while parents are busy at work; parks providing natural greenery away from the hustle and bustle of city life plus many other services like dry cleaning shops etc. With such an abundance of facilities surrounding this property, it really does offer everything that any business could need.
CapitaSpring Building Amenities    
The office tower itself comes fully equipped for any potential tenant's requirements, whether they are small or large businesses needing private offices or companies looking for larger open-plan workspaces – either way, CapitaSpring has something to suit everyone's needs! There is 24/7 security surveillance ensuring complete safety inside as well as outside the premises plus IT support should any technical issues arise during normal working hours Monday – Friday 8 am – 6 pm SGT time. Furthermore, there is free Wi-Fi available on each level eliminating unnecessary costs associated with setting up own networks making this a much more cost-effective choice compared to other CBD locations when considering rental prices per square foot/meter, etc. Last but certainly not least meeting rooms come included within rental packages which allow employees to conduct meetings without having to book outside venues thereby saving additional expenditure too.   
Developer Of Capitaspring  
Capitan Spring was developed by one of Singapore's leading developers – Capitland Limited who have built some highly acclaimed properties over recent years including One George Street near Chinatown Point Shopping Centre plus The Metropolis which is situated next door to Marina Bay Sands Integrated Resort just two examples among many others demonstrating their capabilities when it comes down to constructing luxury buildings across the country. It doesn't stop there though because they also provide professional management services taking care of maintenance tasks and ensuring everything runs smoothly from day one once tenants occupy their new workspace which proves why so many businesses choose them above all other developers when renting out premium properties like this one.   
Other Nearby Office Buildings   
 Some of the nearby buildings in the area include, The UOB Plaza, OUE Downtown, One Raffles Place, Marina Bay Financial Centre and OCBC Centre.